SAM project is a Sector Skills Strategy in Additive Manufacturing which has similar objectives with this initiative
SAM project is a Sector Skills Strategy in Additive Manufacturing which aims to tackle the current European need for developing an effective system to identify and anticipate the right skills for the Additive Manufacturing (AM) sector demands in response to the increasing labour market needs, thus, contributing for the smart, sustainable and inclusive growth of the AM sector in line with the SAMANTHA initiative.
The consortium, composed by 17 partners of which EWF is the coordinator, is strongly committed to support the growth, innovation, and competitiveness of the AM sector. The project is co-funded by European Commission, under the framework of the Blueprint for Sectoral Cooperation on Skills call, launched by ERASUMS+ programme and will be finished by the end of this year.
SAM's main features are:
A Skills Strategy in Additive Manufacturing providing solutions capable to foster and support the growth, the innovation and competitiveness of the AM sector;
A methodology for a sustainable and continuous assessment of current and future skills needs in AM trough the Observatory in Additive Manufacturing, providing just in time mapping and monitoring of the AM industry technological trends, skills shortages and mismatches, policies and figures;
Design, review and deployment of relevant qualifications in the AM sector, built with a learning outcomes approach and linked with EU Frameworks and Tools such as the EQF, e-CF, EntreComp, ECVocational Education and Training (VET) and ECTS;
Promotion of the attractiveness of the AM sector as a career choice for primary, general education, Vocational Education and Training (VET) and university's students Awareness Campaign in the field of AM;
One online Qualifications Catalogue to continuously update and enlarge the European AM Qualification System, integrating all the developed and to be developed sectoral qualifications.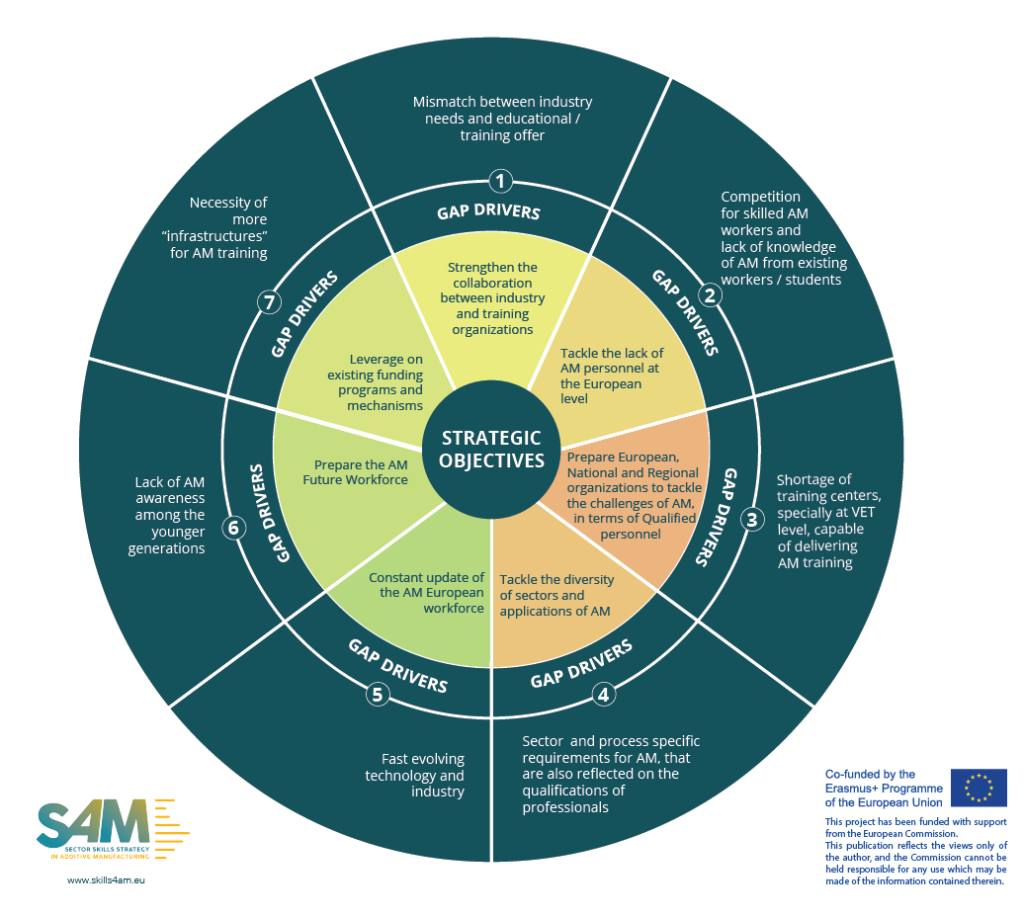 Joint their next activities:
SAM is launching an online course to raise awareness on sustainability for AM , starting on the 24th of March. Don't miss this opportunity to learn about: Eco-design, Product life cycle, AM and sustainable production, among other subjects. Register today.
SAM project is launching a new Webinar Series: Additive Manufacturing in the Automotive Industry next 26th April. The webinar will present on current developments and applications of Additive Manufacturing, as well as the potential for wider adoption of AM, driven by the opportunities which major changes in the automotive sector bring.
The event will be moderated by David Wimpenny, Chief Technologist, NCAM-MTC and count with the special participation of the following experts: Martin Bock (Audi), Simon Hoeges (GKN Powder Metallurgy) and Dean Frank (Autodesk).
Don't miss this chance to participate! View the detailed agenda and register here!
Sector Skills Strategy in Additive Manufacturing (SAM) started in January 2019 and will end this year.