In the last few weeks, the SAMANTHA project team has been busy entering its learning content for the online training course into the learning platform, which will be open to all interested people. Soon, the first pilot course with learners from the Habitat and Toolmaking sectors will be ready to start! The SAMANTHA course has exciting topics in store.
The subject-specific learning modules deal with:
Introduction to AM
AM Printing Technologies
design & modelling software
production process & machines for toolmaking & habitat sectors
AM Materials
The transversal learning modules include:
Creativity and Social Innovation
communication skills
Project Management Techniques for Continous Innovation Through Additive Manufacturing
business model innovation.
Through the combination of subject-specific and transversal competence areas, learners receive comprehensive training and acquire not only the technical know-how, but also the most relevant cross-disciplinary skills for professional success.
Expect cutting-edge information in our training modules, videos and interactive exercises! By answering quizzes on each module, you will gain points and earn a certificate.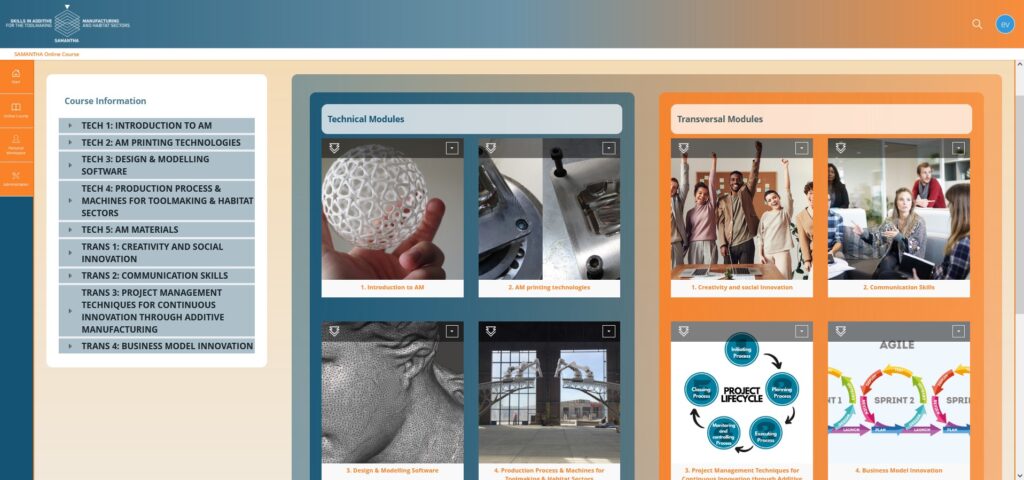 Are you interested in taking part in the course or would you like to ask us further questions? Contact us via our contact form: https://samantha-project.eu/?page_id=7